They say home is where the heart is. Your fireplace is the center of family life in the winter and certainly the centerpiece of your living room. A fireplace has a way of becoming the focus of any room. A fireplace in a modern home should be elegantly designed with a majestic mantle, a welcoming hearth, and a stone surround that naturally takes into the role of your statement wall.
A stone fireplace is a beautiful feature that anyone can design. All you need is a fireplace and a stone installation team who can help you choose the perfect stone color and grain to complete your home's style.
The Benefits of Stone for Fireplaces

Stone is a rewarding material to work with, especially when designing or cladding your fireplace. Granite is naturally beautiful and can last for many years with very little care, and porcelain slabs offer a sleek focal point. Let's take a closer look at what makes fireplace stone a great design choice.
Choosing the Perfect Stone Veneer for Your Fireplace Surround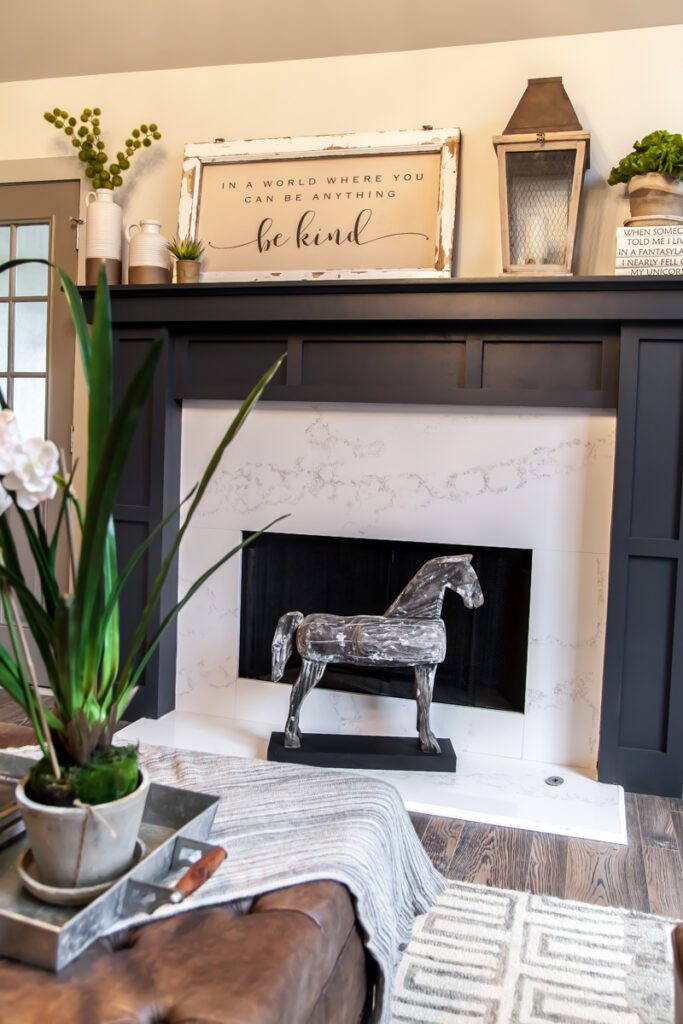 What is the best color and grain for your stone fireplace surround? This unique choice will be influenced by the styles and colors already in your home. You may seek a creamy stone flowing with a luxurious golden grain found in Brown Persia or a dramatic quartzite look with the blue and silver striations of Euphoria Glossy. Whether your home would look best with warm or cool stone, flowing or flecked, you can find the perfect stone surround for your fireplace by exploring endless options of porcelain slabs.
Stone is Extremely Durable and Heat-Resistant

Not only is stone beautiful, but it is also very difficult to damage. Stone is, by nature, extremely hard and resistant to scratches and scuffs. Stone can also withstand unusually high heat. Granite and porcelain used for fireplace cladding are fully capable of handling the heat put out by your fireplace and the rising chimney above it. Even a few flares from excess firewood are unlikely to damage your stone fireplace surround.
Stone Fireplace Surrounds are Very Low-Maintenance

One of the best things about stone is that it needs very little maintenance. All you need to do is wipe down your beautiful porcelain surrounds about once a month or every third fire to keep them as pristine and majestic as the day you had them installed. Porcelain fireplace surrounds don't require grout to install, providing a seamless look and no grout to clean or replace over the years.
Granite from Lakeside Surfaces comes pre-sealed and requires very minimal maintenance. Like porcelain, regular removal of dirt and debris with a damp cloth is recommended.
Stone Fireplaces Increase a Home's Value

Adding a stone surround to your fireplace will inevitably increase your home's value. Any time you increase the function or beauty of your home, you gain the potential to increase your final selling price. There is no question that a luxury statement wall of elegant porcelain stone tile rising from your fireplace will surprise and delight your future buyers.
Stone is Visually Beautiful

There is no denying that a stone fireplace is beautiful. Think back on stone fireplaces you have seen in the past in restaurants, hotels, and beautiful homes. You may find inspiration searching Pinterest boards or have seen a friend's home elegantly renovated with fireplace stone.
Stone is naturally beautiful, and we love to be near it. For the same reasons that we love polished stone countertops and even gemstones in jewelry, stone adds a cool, timeless beauty to your fireplace design and the entire living room it graces.

Create a Better Fireplace Surround With Stone

If you want the perfect granite or porcelain to upgrade your fireplace surround, Lakeside Surfaces would be honored to become your installer of choice. You can find a breathtaking selection of seamless porcelain stone tiles when you visit our Grand Rapids gallery location to discuss your fireplace with our expert designers. You will love the heat-resistant, scratch-resistant, and grout-free design for an effortlessly elegant stone fireplace upgrade. Contact Lakeside Surfaces Inc. to find out more.