Welcome to part two of our material education series features another well-known and well-loved surface option: Quartz! Not to be confused with the pretty crystals on your college roommate's windowsill, quartz surfaces are durable, scratch-resistant, and maintenance-free; they do not require resealing or charging under the next full moon.
If you're starting a new project and you're not quite sure which surface option to go with, keep on reading to learn more about quartz and keep your eyes peeled for the rest of our series!
WHAT IS QUARTZ?
Quartz countertops are manufactured from engineered stone and contain 90-96% natural stone. The other 10% of the unique recipe that makes up this popular surface option are resins which help bind the ground stone and pigments that give color.
HOW IS QUARTZ MADE?
Quartz surfaces are made of mined crystals ground into dust and fused with binders under extreme heat and pressure to help solidify the slab. Pigments and particulates like glass give these quartz surfaces their color and patterns.
QUARTZ ADVANTAGES
Quartz surfaces aren't one of the most popular options for custom countertops for any ole reason! This engineered stone surface is available in many colors, patterns, and finishes.
In addition to their design-friendly and broad color options, quartz surfaces are low-maintenance and do not require resealing – making them incredibly convenient for high-traffic areas such as the kitchen or bathroom. They're also non-porous and stain-resistant, meaning they will not harbor bacteria and are easy to clean.
While quartz is a durable surface that will hold up for years within your home, it is not heat-proof, and some homeowners can find it costly. However, because these surfaces are so durable and combined with our 1-9 pricing scale, it's an investment that most homeowners can find a place in their budget for!
POPULAR QUARTZ LOOKS
Since quartz surfaces are so well-loved for their aesthetics in addition to their advantages, let's touch on some of the common quartz looks you can expect to run into on your journey to custom countertops!
Marbled
This quartz look mimics the look of natural marble, such as Carrara Marble and Calacatta Marble. Marbled quartz can look very subtle or dramatic – there are tons of options out there!
VIEW CARRARA BLANCO
VIEW CALACATTA VIVO
COMING SOON
Swirled
Reflecting the look of granite, this style of quartz contains all the beauty without the maintenance of natural granite. When looking at swirled quartz, you'll typically see multiple colors blended throughout its primary base, allowing the colors to dance seamlessly. This quartz style sometimes contains small veins, glass particulates, or a touch of sparkle.
VIEW MARIN
VIEW FEATHER
VIEW PALOMINO
Pebbled
Do you like the look of granite or swirled quartz but are interested in something a touch more delicate? Pebbled quartz contains smaller pebble-like pieces of stone, giving off a more consistent look while still hinting at natural beauty.
VIEW ROCKY SHORES
VIEW BLACKBURN
VIEW BLANCO MAPLE
Poured
Sleek, modern, and adaptable, poured look quartz is popular in residential and commercial spaces. This style of quartz has a solid colored base that may feature speckles of stone or particulate.
VIEW CORAL CLAY
VIEW WINTER GREY
VIEW PARADISE
QUARTZ FINISHES
Quartz surfaces come in countless colors and patterns, but they come in alternative finishes as well! Below we'll break down the different finishes you may run into as you hunt for your perfect surface and what characteristics you can expect to see with each of them.
Polished
One of the most common quartz finishes you will run into, this countertop finish has a luster that allows your customer quartz countertops to be the star of the show in your space. This shine is achieved by mildly grinding the surface of the quartz during the finishing process.
Honed
A honed finish gives your quartz counters a flat, matte appearance. Better at concealing countertop smudges and streaks, some homeowners may opt for this surface if they live a busy lifestyle or entertain often.
VIEW TERRAZZO CINDER
VIEW NIGHTFALL HONED
VIEW APOLLO HONED
Brushed
Brushed finishes mimic the look of natural, textured stone. The texture of brushed finishes can vary from piece to piece – this intentional variation will help engineered stone, like quartz, appear more natural. This finish is popular in modern, industrial, and sometimes rustic spaces.
VIEW DARK SMOKE
VIEW COASTAL GREY
VIEW PACIFIC MIST
Suede/Leathered
This finish is similar to Honed finishes but boasts have a more velvet-like and softer feel. This finish highlights the stone's natural color and looks contemporary.
VIEW CHARCOAL SOAPSTONE
VIEW ASPEN SUEDE
VIEW CAMDEN SUEDE
QUARTZ VS QUARTZITE
While searching for new countertops, you're going to come in contact with many different surface types! Granite, dolomite, soapstone, marble – the options are endless! Another word you may run into on this journey is quartzite, which can sometimes confuse Homeowners.
What's the difference between quartzite and quartz, you ask? One of the most important differences is that quartz is an engineered stone, and quartzite is naturally occurring.
Naturally occurring heat and pressure cause sandstone and quartz crystals to fuse – forming quartzite. Quartzite's composition is a bit different than engineered quartz – it is still a durable and hard stone but does require resealing to maintain its beauty and prevent staining.
CARE & MAINTENANCE
Alright, we've gone over a ton of information here, and we're almost to the finish line! Phew, are your eyes as tired as our fingers were typing this? The final thing we want to touch on is care & maintenance.
As stated, quartz is stain-resistant, scratch-resistant, and heat-resistant, but it still requires some TLC to maintain its beauty. There are some no-no's when it comes to cleaning your quartz you should be aware of and some cleaners you should avoid.
Click the link below to view our Quartz Care & Maintenance guide.
QUARTZ CARE & MAINTENANCE
PRISTINE CLEAN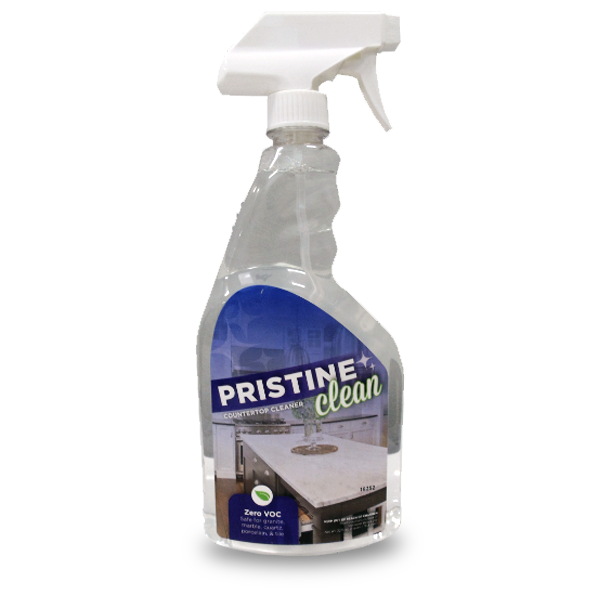 Did you know Lakeside Surfaces has a cleaner we created with our 30 years of expertise in mind? Learn more about Pristine Clean by clicking the button below!
PRISTINE CLEAN
Ready to check out all of our amazing quartz colors and finishes in person? Visit our 29th St Inspiration Gallery in Grand Rapids!