Designing an outdoor kitchen in West Michigan is one of the luxuries of being a homeowner. Not only does it offer a perfect place to entertain family and friends, but it also provides an excellent opportunity to enjoy the great outdoors. To make your outdoor kitchen functional and stylish, you need to choose the right countertop. In this article, we'll explore the best materials for outdoor kitchen countertops: granite and porcelain.
What factors should you consider when choosing materials?
When it comes to choosing the right countertop, there are several factors to consider. Firstly, aesthetics play a significant role. You want a countertop that complements your outdoor kitchen style and enhances its overall appeal. Secondly, durability is crucial. Your outdoor kitchen is exposed to the elements, and you need a countertop that can withstand heat, UV rays, and fluctuating temperatures. Finally, you want a countertop that is easy to maintain and clean.
Porcelain and granite countertops are the best options for outdoor kitchen countertops. Porcelain is a beautiful and modern material that offers UV resistance, scratch resistance, and a non-porous surface. Granite is a luxurious, affordable stone that is highly durable, scratch-proof, and easy to clean.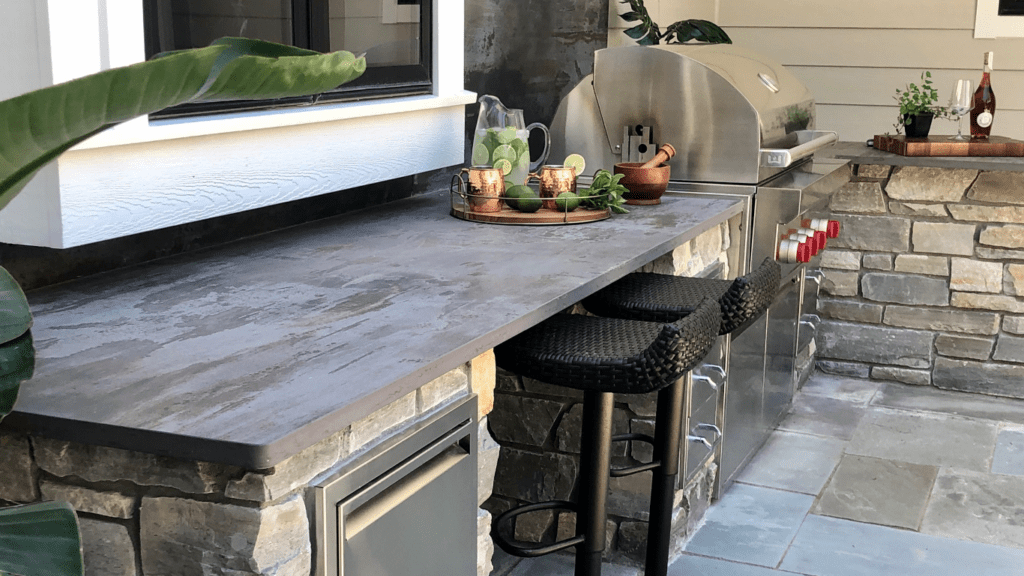 Porcelain Countertop Benefits 
UV-resistant and color-lasting in sunshine 

Non-porous, making it resistant to bacteria, mold, and mildew 

Scratch-resistant 

High heat-resistant 

Continuous slab design, eliminating the need for grouting 

Sleek, modern look 

Infinite matching for waterfalls and surrounds
Porcelain is a beautiful countertop made of delicate porcelain clay fired into hard, durable perfection. Porcelain can give you pristine, glowing white countertops, or you can choose from a beautiful variety of colors where the porcelain has been blended and swirled with pigment within the sealed surface. A porcelain countertop is stylish and modern, excellent for resisting heat (e.g., hot pans). Additionally, porcelain countertops are easy to clean.
Granite Countertop Benefits 
Luxurious Yet Affordable Stone 

Extremely Durable 

Scratchproof and Impact Resistant 

Easy to Clean 

Many Stylistic Edging Options
Granite countertops have long been the symbol of a luxury kitchen and make the perfect luxury you can take to the outdoor kitchen. Granite is a natural solid stone found in vivid or subtle colors and grained with remnants of the same minerals pressed in the earth as the granite formed. Granite is highly durable, scratch-proof, and easy to keep clean with proper care. Granite countertops are typically thicker, allowing for elegant to modern edge varieties to match your outdoor design theme.
Concrete and Quartz Are Not Ideal
While porcelain and granite make excellent outdoor kitchen countertop materials, some materials should be avoided. For example, concrete or quartz countertops may not be the best choice for outdoor kitchen design. Tile and stainless steel countertops may also be less than ideal. Here's why:
Cons of Outdoor Concrete Countertops
Porous and not stain-resistant

Concrete may crack when exposed to fluctuating temperatures

Prone to chips or scratches if not sealed properly 
Cons of Outdoor Quartz Countertop
While a beautiful and durable material that is highly recommended for indoor kitchens, quartz is not UV-resistant and may discolor if exposed to direct sunlight.
Cons of Stainless Steel Outdoor Countertop
It can become searingly hot when exposed to direct sunlight

Rusts when exposed to moisture

Vulnerable to scratches
Cons of Tile Outdoor Countertops
Grout creates porous weak points

Prone to staining, and grout is difficult to clean

Grout will crack when exposed to temperature fluctuations and severe weather
The Best Countertops for Your Outdoor Kitchen
How do you choose the best countertop for an outdoor kitchen? Granite and porcelain countertops are well-rated in beauty, durability, and non-porous lasting quality over time. Do you want a classic stone look or a sleek modern countertop design? Are you favoring a cottage design or a beautiful waterfall flow to backsplashes and island sides?
You can choose the perfect outdoor countertop based on the performance and appearance you want to see in your beautiful new outdoor kitchen.
Lakeside Surfaces Can Help You Choose the Best Outdoor Kitchen Countertop
The perfect counter for your outdoor kitchen and living space will be defined by the style and experience you want to create. Granite is classic and as durable as the mountain it was carved from. Porcelain offers a pristine surface with elegant colors and timeless textures. Spacious or cozy, traditional or modern, Lakeside Surfaces can help you choose the best countertop for your outdoor kitchen design.
Visit Our Showroom
See the slabs for yourself at our Grand Rapids showroom, schedule an in-home appointment with one of our designers, or contact us today to discover more about the right choice in outdoor kitchen countertops.
TLDR:
Choosing the right countertop for your outdoor kitchen is essential to create a beautiful and functional space that will last for years to come. Porcelain and granite are the best options due to their durability, beauty, and ease of maintenance. Avoid materials like concrete, quartz, tile, and stainless steel that may not perform as well in an outdoor environment. If you need help choosing the best outdoor kitchen countertop, Lakeside Surfaces can help. Contact us now!