Want to know what to expect when working with Lakeside? Download our free brochure to see how your experience could be different if you choose another countertop company.
Download now and compare us to other countertop providers. Ask them how they would handle these important installation details.
There is a difference
Today there are many countertop companies out there that will do a good job installing nice new countertops in your home, but do you want to just have your countertops look "good" when they could look "great"? There is a difference between companies when it comes to the details of what makes a "great" countertop.  While many of the factors may seem like no-brainers; when it comes to installation, I promise you, they aren't. Keep reading and see the Lakeside difference for yourself.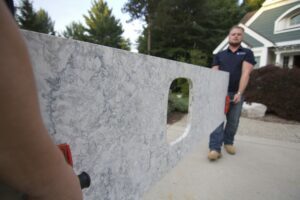 Process Driven
Having regimented processes is incredibly important for most businesses and countertops are no different. Putting quality and training processes in place, Lakeside ensures that the best possible product is installed in your home. From the methods used to measure your tops and get precise dimensions, to the specific way that seams are created and put together, these are all examples of processes that Lakeside has perfected and consistently adheres to in order to create beautiful countertops for your home. Unfortunately, this is not standard for all companies, but we are proud to say that these are an integral part of our everyday operations at Lakeside.
On Staff Installers Mean Responsible Installers
Many countertop companies use sub-contractors for their installation. Subcontracting labor in itself is not a bad thing, but it does make it much more difficult to guarantee the outcome. Sometimes you get a phenomenal contractor that shows up on time and is courteous and respectful of your home and gets the job done in a timely manner, while other times you may get the exact opposite. No matter what your experience has been with sub-contractors in the past, you don't have to worry about that with Lakeside.
When we were getting started over 25 years ago, we saw the way that other countertops companies were doing things and we thought, there has to be a way to make this better. What can we do that will not only make the end result pleasant, but the experience itself? We can hire our own group of installers and train them to Lakeside standards, not just industry standards. So that's what we did. Today we have 18 skilled installers across the state that will treat your home with the respect it deserves.
The Lakeside Experience
We understand that when we are in your home, you are trusting us to take care of it. That trust is very important to us, so we have put some policies in place to ensure that when we leave your home, it is in better condition than it was when we arrived.
Before the actual installation begins, our installers will come in and survey your space to find the best route into your home. Taking every precaution to keep your home safe and clean, they lay down blankets and wear booties to protect your floors, allowing them to maneuver extremely heavy materials through your home with agility and grace.
Our installers are constantly cleaning while your countertops are being installed so that any mess that is being created is quickly dealt with. Finally, when they are finished with the installation, one final clean-up is done to make sure that everything is neat and clean. Not all companies will go to these lengths to make sure that your home is properly taken care of, but to Lakeside it is extremely important to leave no trace that we have been there, except for gorgeous new countertops.
Now that you have all the facts, choose the countertop company that has over 25 years of experience in making dream kitchens come true without the headache. Choose Lakeside Surfaces.